US fulfillment service including warehousing, picking, packing and shipping to your end-customers. Perfect if you target to launch on an e-commerce website in North America from sellers, or have general warehousing and fulfillment needs.

Shipping your product stocks in the US can also result in bulk delivery discounts.

We deliver an exceptional customer experience.

We provide full-time packers who can professionally package your items to avoid damages.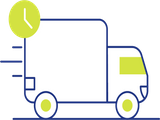 You have access to same-day dispatching services which allows you to deliver items to consumers more quickly.

This will save money for your company because it involves less investment in people, storage, and technology.

It reduces supply chain risk and diversifies it.